The Meca500 robotic arm from Mecademic is uniquely suited for the aerospace industry. Its small size, lightweight, low energy consumption, and unmatched compactness make it ideal for an aircraft or a spacecraft. In this article, the research authors present a novel method of robot-assisted additive manufacturing on-orbit.
The aerospace robotics industry calls for extreme precision to meet strict tolerance requirements, safety standards, and micromanipulation needs. Mecademic's aerospace clients, ranging from NASA's Johnson Space Centre to rocket manufacturing industry leaders, benefit from unmatched precision when automating with our Meca500 robot arm. The Meca500 is commonly commissioned to assemble delicate aerospace electronics, perform quality inspections and testing, precision-machine small components, and even micro-manipulate extraterrestrial materials.
With its 5 µm repeatability, the robot guarantees that each task is performed reliably, identically, and at the same rate. Equip the robots with vision systems and sensors for added precision at high work rates.
New robot-assisted additive manufacturing research
The ability to print structures on-demand in outer space has become a necessity for successful space exploration. NASA, SpaceX, Boeing, and others are already printing hundreds of parts and exploring innovative ways of using additive technology.
In this new research paper, the study authors assessed a novel way of printing such functional structures in space, using the Meca500.
They explored two methods for manufacturing large structures using a robotic free-flyer on an air bearing table:
Extruding while the free-flyer was moving; and,
Splitting the large structure into segments to be printed and assembled.
From the paper, Feasibility Study of Large-Format, Freeform 3D Printing for On-Orbit Additive Manufacturing:
"Large scale, on-orbit additive manufacturing (AM) and assembly is being considered as a modular and resource-saving approach to facilitate permanent human presence in space.
To realize this, a novel AM approach to freeform fabricate large, functional structures in space has been developed. Combining the reach of a free-flying CubeSat with a collaborative robotic arm [the Meca500] and a 3D printer, large support-free thermoplastic structures can be manufactured beyond the size of the setup itself.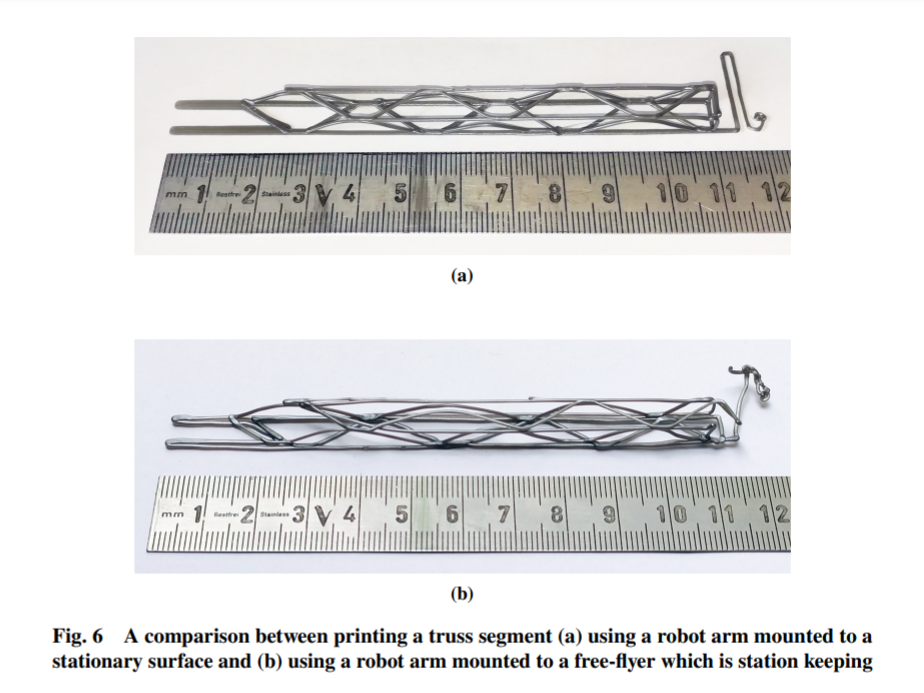 The continuous printing method was capable of producing consistent results for a single line of material. Using the
segmented printing approach, it was possible to print a truss structure with a length over 700 mm. The dependency of the support-free printing method on the direction of the gravity vector was explored, and it was found through visual inspection that printing in −1 g produced no discernible differences with printing in 1 g. As such, it is posited that the method can be used independent of the gravity direction, and therefore also in microgravity.
We have thus demonstrated the feasibility of a small spacecraft to manufacture support-free structures larger than itself using a robotic arm with 3D printhead end effector. Using such a spacecraft would allow support-free 3D printing of structures with unlimited dimensions, and offers more flexibility than the truss manufacturing machines proposed by others."
Images and study © of study authors:
D. Jonckers*, O. Tauscher*, E. Stoll†, and A. Thakur*‡
*Institute of Space Systems, Technical University Braunschweig, Braunschweig, Germany
†Institute for Space Technology, Technical University Berlin, Berlin, Germany
‡Corresponding author: aditya.thakur@tu-braunschweig.de
Learn more about Mecademic's products and solutions
Ready to find out how our products and solutions can increase your production throughput within the smallest possible footprint, without sacrificing precision, or reach?
➡️ Explore our products: https://www.mecademic.com/en/products
➡️ Or contact us immediately to book your demo!